Male Pattern Hair Loss
Male pattern hair loss is related to your genes and male sex hormones. It usually follows a pattern of receding hairline and hair thinning on the crown. The typical pattern of male baldness begins at the hairline. The hairline gradually moves backward (recedes) and forms an "M" shape. 
Male-pattern hair loss can also happen to women.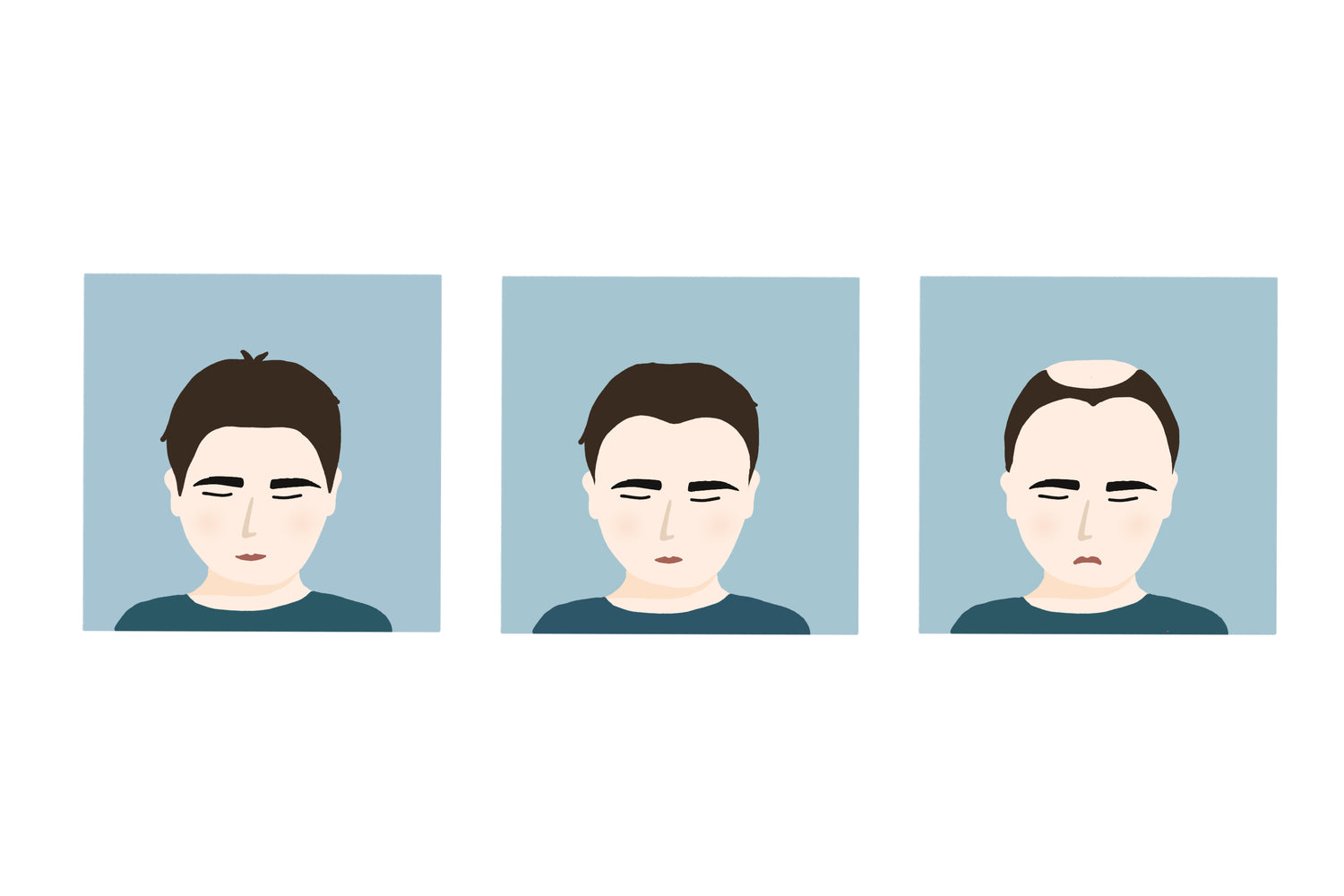 The Cause behind Male Pattern Hair Loss
Each strand of hair sits in a tiny hole (cavity) in the skin called a follicle. Generally, baldness occurs when the hair follicle shrinks over time, resulting in shorter and finer hair. Eventually, the follicle does not grow new hair. The follicles remain alive, which suggests that it is still possible to grow new hair.
Hair follicles can fall apart if there is an excessive oil build up in your scalp. Excessive nutrients in your scalp can also cause hair loss. A good oil and nutrient balance throughout your body and hair is key in keeping your hair intact.
Male Pattern Hair Loss
Genetics, hormone imbalance, type of food you consume, and irregular sleeping patterns all distribute to oily scalp.
This symptom can often be caused by seborrhea – excessive oily skin. Male pattern hair loss can happen to both men and women, but is more common amongst men than women between the age of 16 – 50+.
For Hair loss from Seborrhea
Pro Hair 3: Uses various Chinese medical herbs to restore the oil balance in the body and scalp, minimizing hair loss from male pattern hair loss.
Treatment Product
For Faster Result
Pro Hair 3: Uses various Chinese medical herbs to restore the oil balance in the body and scalpt, minimizing hair loss from male pattern hair loss.

Pro Hair Gro: Enhance and speed up the effect from Pro Hair 3


Treatment Kit